Students and school leavers
Whatever stage of study you are at – if you're a tertiary student or secondary school student about to graduate - check out the Disability, Community and Aged Care sector.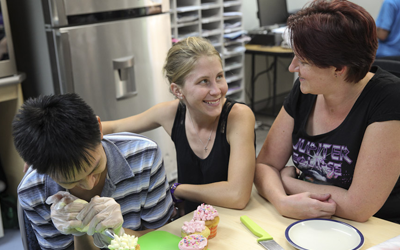 Here, you can get the best of all worlds:
Qualifications - many qualifications are recognised in this sector, and there's the opportunity to gain sector-specific qualifications that could enhance your career. See our Training and qualifications page for more details.
Support - the sector is very supportive in helping its new employees acclimatise to a different role, and to strike the right work-life balance from the outset.
Flexibility - you can find work that is flexible enough to fit around your studies. This allows you to get invaluable experience which will complement your learning.
Location - because roles within the sector aren't limited to the 'city', you might find the right job for you much closer to home.
Satisfaction - at the end of the working day, you will feel well rewarded for the work you have done, both professionally and personally. When you know that the work you do helps another person to live a more fulfilling life, you'll feel more fulfilled too.
Progression - the sector prides itself on helping people fulfil their potential. This support means that people frequently change roles or career paths within the sector itself.
Part Time jobs are a reality for the majority of students these days, and the Disability, Community and Aged Care sector is a great source of rewarding Part Time work for students and school leavers.
Like hospitality and retail, this sector offers the flexibility that is vital when you're juggling coursework and a timetable, and often pays better. And a Part Time job in this sector will increase your knowledge, broaden your range of skills, and give you the satisfaction that comes from being part of a truly inclusive community. It will also be a valuable addition to your CV when you graduate!
carecareers also runs workshops for Year 10,11 & 12 students who want to learn more about a career in Disability. Read more about projectABLE.
Related Links

Australian apprenticeships
This website offers comprehensive and up-to-date information about how to do an Australian apprenticeship.
Community Services Gateway to Schools
The Community Services Gateway to Schools Project is on a mission to connect students to industry and build awareness of the wide range of meaningful career opportunities within the community service sector.
Myfuture

A great website with fun interactive quizzes, video guides, competitions and information about workshops designed to clarify your further education and training choices.

The central hub for government information for young people seeking information about training, support, funding and development.