Rewards and benefits
Whatever your role within the disability and community care sector – frontline, administration or board level – your work impacts on much more than a balance sheet. There are many rewards and benefits to the sector, some of which you may never have considered: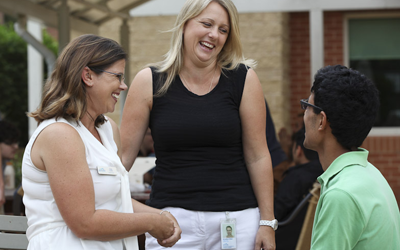 Work-life balance – you can combine part time work with study, caring for others at home, hobbies or even easing into retirement. There are lots of opportunities to work shifts that suit you. Find advice on how to achieve that balance here.


Salary packaging – Australian taxation law allows certain organisations to offer salary packaging benefits to their employees. If your employer qualifies you can make significant income tax savings.


Find your perfect position – with roles available from entry level through to senior management, there is plenty of scope to find your niche in this sector.


Development – the sector understands the importance of helping people reach their potential, and you will be encouraged to develop your career.


Job variety – for most roles in this sector, no two days are ever the same.


Challenging – the work you do will stretch and develop all of your abilities – from organisational skills to creative problem-solving.


Cultural fit – work in the sector is valued and valuable, allowing you to align your career with your personal values and to work with like-minded people.


Satisfaction – you'll find it enabling your clients to achieve their goals, wishes or needs.
One of the most rewarding aspects of a career within the disability, community and aged care sector is the potential to use your skills and passions to build meaningful relationships with people who contribute as much to your life as you do theirs.