Return to work parents
While you might put your career on hold to bring up children, the same can't be said of your learning and development. In our sector you can apply the skills that you have learned in raising a family - problem solving, creativity, lateral thinking, spontaneity, helping another person and more - to develop and discover life.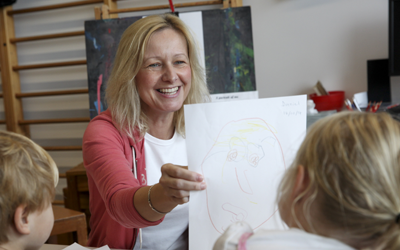 The breadth of the sector means that along with direct support roles, there are also jobs in indirect support areas like finance and administration, as well as a huge range of professional roles.
A return to work after a break can seem daunting. The Disability, Community and Aged Care sector is one of the few industries which openly welcomes people juggling family life and returning to work.
It not only recognises that the skills you've developed in raising your family can be relevant at work, but in certain situations they may count towards training and qualifications.
The availability of flexible rosters and shift work is another great advantage of the sector. Whilst not all roles offer the same levels of flexibility, you'll find it an exceptionally family friendly environment with people who understand the need for work/life balance.
The variety of roles on offer and the availability of training mean that you have real options when returning to work. In many organisations training is available on the job and there's a good chance that you'll qualify for Recognition of Prior Learning (RPL) - which is an acknowledgement of the skills and experience you bring to the role.
Related Links

Raising Children Network
The respected Australian parenting website, Raising Children Network, has resources for parents returning to the workforce or seeking ways to balance work and family life.