Welcome to the Disability Induction Program
If you're new to the sector, or just want to learn more, the Disability Induction Program is a great place to start.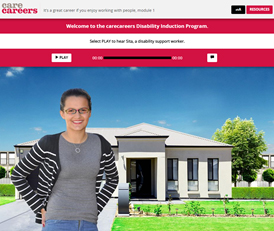 What is it?
An introduction to working in today's disability sector
Incorporates the latest thinking on person centred approaches
An award-winning online program
Great content in an easy-to-follow format
5 courses in 12 separate modules which take 4 - 5 hours to complete.
For more information see the User Guide ( Accessible version here)
What will I get?
A comprehensive and practical grounding in the work in this sector.
Skills and knowledge you can apply across a range of career opportunities.
A certificate of completion for each of the 5 courses.
How do I access the course?
Module 1 is FREE. Click here to start Module 1.
Unlimited access to the full program costs just $50 plus GST
(you'll need to register or login )

SPECIAL OFFER! – Enjoy FREE NDP Membership until 30 June 2019 if you purchase before 30 September 2018
Volume discounts are available - more information
here
.