Welcome to the Disability Induction Program
If you're new to the sector, or just want to learn more, the Disability Induction Program is a great place to start.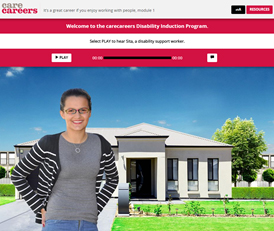 You will gain an understanding of the work we do - the rewards as well as the challenges. There are 5 courses in 12 separate modules which all-up will take you 4 to 5 hours to complete.
By the end of the program you'll have a comprehensive and practical grounding in the work in this sector. You'll also have skills and knowledge you can use across a range of career opportunities.
Click here to complete the FREE module 'It's a great career if you enjoy working with people, module 1'.
*Course 1, Module 1 is FREE. There is a one-off fee of $50 plus GST for unlimited access to the remaining modules.
SPECIAL OFFER! – Enjoy FREE NDP Membership until 30 June 2017 if you purchase before 31 March 2017

For an introductory user guide to the Disability Induction Program download one of the following:
Volume discounts are available - more information
here
.
AWARD WINNING PROGRAM
Platinum Award Winner Best Elearning Design - Accessibility 2015 Learnx Impact

Highly Commended - Best Use of Technology for Learning. AITD National Training Excellence Awards 2015