Events
Participating in a community or job seeker event is a great way to find out more about the disability and community care sector and to expand your network. Events can include open days, awareness days or weeks and expos.
---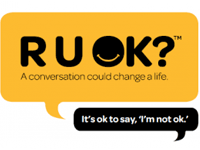 Location of Event
New South Wales
New South Wales
08 September 2017 until 08 September 2017
R U OK Foundation
Are You Ok Day is an annual national day of action that aims to get Australians, right across the entire spectrum of society, connecting with friends and loved ones, by reaching out to anyone doing it tough and simply asking: "Are you ok?" talking about suicide with someone at risk actually reduces the chances of them taking their life. It is the one thing we can all do to make a real difference. R U OK ? Day is about prevention, preventing little problems turning into big problems.
National
---
---