Look for an employer
Search the carecareers Employer Directory below by location or employer name – you may just find your next employer!
---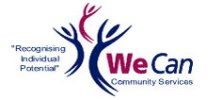 Address
73 Morrison Road
Midland
Western Australia
6936
We Can Community Services We can Community Services is a professional organisation which has many years of experience in the disability field.
We Can Community services is a dynamic group of people who provide support services to people with an intellectual disability, autism spectrum disorders, acquired brain injuries and to those, because of a wide range of circumstances are disadvantaged and to their parents or carers.
Accommodation Support Programs
Respite Accommodation
Intensive Family Support
Alternatives to Employment
Post School Options
Centre Based Activities
Our Organisation is accredited with the Disability Services Commission of Western Australia to provide ongoing support to individuals who are receive funding for Alternatives to Employment, Post School Options, Intensive Family Support and Accommodaton Support Programs.
People with disabilities and their families are also reffered to our Organisation by the Department of Community Development of Western Australia and the Australian Red Cross Carers Respite.
---
---
Community access/Social participation
Community transport
Respite and support
Skills development
Social development
Complex support
High support
Low support
Administration
Disability Support Worker
Frontline Professional
Frontline Support
Manager/Supervisor
Personal Care Assistant
Residential Support Worker
Social Educator
Team Leader
Transport and Facilities
Volunteer