Look for an employer
Search the carecareers Employer Directory below by location or employer name – you may just find your next employer!
---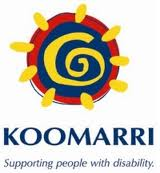 Address
PO Box 262
Woden
ACT
2606
Who We Are
Koomarri is a respected not-for-profit organisation with more than 60 years of operation in the ACT and NSW. At Koomarri, we support people who experience disability to lead meaningful and productive lives. Koomarri's business, community and residential services support more than 300 people and their families across Canberra and southern NSW.
Koomarri advocates for and empowers people to achieve their dreams, goals and aspirations with a whole of life approach in collaboration to continuous learning and review of our services to ensure we proivide the best possible supports to people with disability in our community.
Our Policy Framework
Equity, independence and inclusion.
Koomarri operates within the context of a suite of policies designed to ensure that our clients and supported employees receive the best possible services and support. These policies are enshrined in our policy manual, which guides what we do and how we do it. Our policies are an internal organisational resource but one which we are able to provide as and when queries arise (eg: should an individual or their guardian wish to know more about a decision or process). To find out more, email Nadine Stephen nstephen@koomarri.asn.au.
---
---
Australian Disability Enterprise
Community access/Social participation
Disability Employment Network
Domestic services
In-home personal care
Meals and food services
Residential care home
Complex support
High and complex support
High and low support
High support
High/low and complex support
Low and complex support
Low support
Administration
Administration Coordinator
Assessment and case management
Case Manager
Community Care Worker
Coordinator
Counsellor
Disability Support Worker
Driver
Employment Development Officer
Frontline Professional
Frontline Support
HR Coordinator
Manager/Supervisor
Payroll Officer
Personal Care Assistant
Program Facilitator
Project Officer
Residential Support Worker
Social Educator
Social Worker
Transport Coordinator